Pre-Veterinary Studies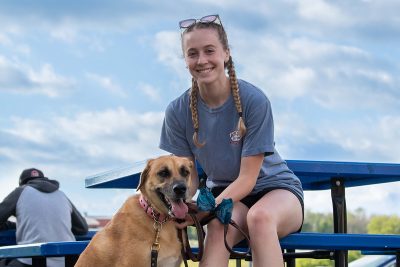 The pre-veterinary curriculum can be pursued under the majors of Animal Science or Pathobiology. Most students prepare for veterinary college while pursuing a Bachelor of Science (BS) degree in one of these majors.
Undergraduate advisors for pre-vet students are available in the Department of Animal Science and the Department of Pathobiology and Veterinary Science. The pre-vet advisors are knowledgeable about pre-veterinary requirements and will assist and guide you through your undergraduate career. Please visit the departmental websites below for information on the pre-vet programs in both departments:
UConn was named one of the nation's top ten pre-vet schools by VetTechColleges.com.
Information on Application to Veterinary Schools and Colleges
Students enroll in veterinary school following the completion of a Bachelor's degree. Veterinary medicine programs are four years in length and admission is highly competitive. Specific admission requirements vary slightly among veterinary colleges, but all emphasize a strong science background. Applications to veterinary colleges are made in the fall of the final year of the Bachelor's program. Successful applicants must maintain a high undergraduate grade point average and have practical experience working with animals and veterinarians. The University of Connecticut is well positioned to help you obtain practical experience. In addition, most veterinary colleges require competitive GRE and/or VCAT scores.
UConn graduates who meet the veterinary school requirements described above are typically accepted into veterinary colleges.
The Association of American Veterinary Medical Colleges (AAVMC) provides a Listing of Veterinary Schools and Colleges in the U.S. and other countries.
Suggestions for High School Students Preparing for a Career in Veterinary Medicine
You should meet all of the admission requirements listed in the undergraduate catalog of the University of Connecticut. In addition, it will be helpful if you have a strong science and math background. If you have the option to take courses for college credit at your high school, this may give you greater flexibility in course selection during your college pre-veterinary medicine program.
Obtaining experience working for a veterinarian is an excellent way to determine if veterinary medicine is an appropriate career choice. Veterinary colleges require this type of work experience prior to application. Other positions working with animals may also enhance your veterinary college application.